Travel and Transportation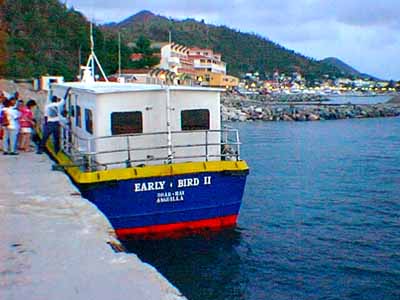 Most people fly to Anguilla via San Juan Puerto Rico on American Airlines and American Eagle.

The second most common way to get to Anguilla is to first fly to Dutch St Maarten's big International airport. From there you can either take a 5 minute connecting flight to Anguilla, or take a taxi and then the ferry to Anguilla. The ferries (the one shown at right is in French St Martin) run every half hour during the day and costs $10 US. The phone number at the Anguillian ferry terminal is 6853.


AIRLINE COMPANIES
Air Anguilla	      2643  / 3643
American Airlines     3131/2
American Eagle	      3500/1
Liat		      5000/1
Tyden Air Inc	      2719 / 3419
Winair                2748

AIRCRAFT CHARTER RENTAL & LEASING
Air Anguilla	      2643 / 3643
Tyden Air Inc	      2719 / 3419

CAR RENTAL
Apex Car Rental				2642
Avis Rent A Car				6221
Budget Rent A Car			2217
C-Breeze Ltd Car Rental			2133
Caribbean Car Rentals			4135
Concept Car Rentals			3613
Connor's Car Rental			6894
Highway Rent A Car			2183 / 2486
Island Car Rentals			2723 / 3923
Rodco's Car Rental			3141 / 2773
Roy Roger's Car Rental			6290
Summer Set Car Rental			5278 / 5778
Thrifty Car Rental			2656
TLC Car Rental				3290
Triple K HERTZ Car Rental		2934 / 5934
Uncle Ernie's Car Rentals		2542 / 3907

TAXI SERVICES
Connor's Taxi				6894
Excellent Limousine Service		5821/2604
Gumbs Alston				3268
Harry's Taxi				4336
Mac's Taxi & Tour Service		2855
Nell's Executive Limousine & Taxi Service 6433
Sun Spot Bus Line			4446
Wild Cat Taxi Service			6411